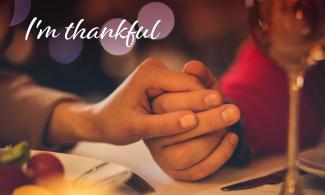 To each and every one of you reading this - I'm grateful for you. And for those of you that have placed your trust in me to care for your financial life, I'm humbled. 
In the spirit of Thanksgiving, I'd like to count my blessings and share them with you.
I'm thankful for my faith.
It has gotten me through some very tough times.
I'm thankful for safety, a roof over my head, and enough food to eat.
Millions of people aren't able to enjoy that blessing right now.
I'm thankful for my family.
They are my strength and my joy and the reason why I get up in the morning (sometimes earlier than I'd like).
I'm thankful for our community of resilient and supportive people.
We don't always agree on everything, but we're here to lift each other up.
I'm thankful for work that gives me purpose.
It allows me to help people meet life with confidence and pursue what matters most.
I'm thankful for you all, and that you're on this journey with me.
May you and your loved ones enjoy a warm, happy, blessed Thanksgiving this year.
Feel free to share any traditions, stories, or recipes with me - I'd love to hear from you!